by Garrett Rowlan
     Going up the El Cajon pass, Joe Boren felt the sprinkle of raindrops change to a slur. His windshield wipers pushed them aside. He reached the summit. As he neared the desert town of Victorville, California, a black object appeared. Boren didn't have time to swerve. He felt a small bump and a few seconds later he heard the pinwheel sound of a punctured tire. He pulled to the side of the road and picked up a block of wood, a two-by-four with a protruding nail. He flung the weaponized block aside and returned to his car. Then he called his sister and told her what had happened.
"Probably some asshole," he added. "Don't wait for me. I'll get there as soon as I can."
"Are you okay?" The subtext of the question was alcohol. He was, he said—sober. "I want you to be here. He's the real thing."
She didn't mean her fiancé, Boren knew. She meant her pastor, preacher, or whatever term applied to Prentice Hawthorne, the churchless holy man whose ad hoc congregation she had joined.
"I'm sure he is," Boren said before he disconnected.
He fetched the jack and the donut from the trunk while the drops rolled down his back. He found a rusty nail stuck in the tire. It was consistent with the epiphanies he'd witnessed in the last twenty-four hours: a homeless woman with her hair in curlers; a man in a flag-flying SUV rolling down a window to show his trash-tossing patriotism; a TV hanging by a wire from a window and looking like a distended eyeball; and a skinny, mangy cat with a black spot of grease on its white head, running between traffic. It wasn't hit, but surely it wouldn't survive much longer. The world, he was beginning to feel, was unworthy of his sobriety.  
He put on the donut and drove through the center of Victorville, veering past franchise businesses. A mile or so from his sister's house, Boren found a gas station. A man in a glass booth told him the mechanic came on in an hour. Boren left his car key and his cell phone number and since the rain had stopped, he walked. He was in no hurry. He didn't want to hear the unintended irony of his sister's wedding vows, nor was he eager to meet this bullshit holy man.
A quarter-mile from the gas station he found a liquor store. Its presence here was unusual. In Boren's experience, the Inland Empire was more a repository for convenience stores and supermarkets than stand-alone liquor stores. It was an anomaly that lured. He entered. The store smelled of dust and cleanser. The man behind the counter had gray crew-cut hair, a dented complexion, and deep-set eyes like miniature craters.
"Hey there," he said, as if he knew Boren from before.
Boren moved past him, toward the shadows in the back. He had been attracted to liquor stores, even before he drank. Bottled, colored liquid somehow reminded Boren of a magic shop, and when he came to a locked case of miniatures, free of the dust that clung to the other bottles, he remembered Romeo and Juliet, "Poison hath residence and medicine power." Poison pretty much described Boren's relationship to alcohol, but so did the medicine part. Alcohol had both helped him through his years of teaching as much as it led to his undoing.
He waved at the clerk to open the case. Boren got a nice mix of miniatures: two of Jameson's whiskey, an Olden Times, and a Gibney's. After paying, he stuffed them in the pocket of his sport's jacket and left the store. Even if he didn't open them they would be a comfort. A hedge against the aggressive righteousness that had characterized Lee's new friends.
Boren walked north toward Bell Mountain looming a few miles away, then cut down a street of older houses that had largely escaped the blight of repossessions in this part of California. His sister's house was ranch-style stucco, painted some vaguely pastel color that had faded under the desert sun. Cars were parked outside. Boren paused and considered drinking one of the bottles in his pocket then thought of Lee's nose wrinkling as they embraced. She would know—if not from his breath then from his glassy eyes.
He went up to the door and knocked. Lee answered and smiled at him. Indeed, she looked radiant in her white wedding gown. Her face was suffused with a glow that gave the wrinkles around her eyes and mouth the perky look of a child's drawing. They embraced, reviving that special bond a brother and sister can have. In this case, one forged in East Hollywood then a failed commune in Oregon, after which the family had returned to Los Angeles. Their father, Cyril, continued his alternate life style by other means. A flirtation with Sixties' militancy and less noble acts kept him in and out of prison. Even after the Sixties were over, Cyril persisted in his dream of revolution, an idea born out of rebelling against his domineering father. Boren recalled his grandfather's blue eyes and gray hair as a kind of godly avatar, impressive and inflexible. As the Seventies continued Cyril's despair slid into full-blown alcoholism until homeless, he died of exposure. Worn out by raising two children virtually alone, their mother died of a heart attack, shortly after Boren graduated from college.
Boren hoped Lee wouldn't feel the liquor bottles in his coat pocket.
"I know what you're thinking," she said, pushing him away at arm's length. "If you were Edgar"—her first husband, who had gambling problems—"you'd be figuring the over's and under's. You'd give it, what? Two years."
"Actually, I was thinking about my car," Boren said, evading the question. "It's at a gas station a half-mile away."
"We could have given you a ride."
"That's okay," he said. He kissed her on the forehead and moved past her. Several people milled about. He saw her new husband in a blue blazer and checkered pants, talking to friends.
"I told you, this time it's different," Lee scanned his forehead as if she could read his thoughts. "Our union is blessed."
"By God or by Prentice Hawthorne, or does that matter to you?"
"He does not claim he's God. No, he puts us in the way of God. He wants us to be ready for God, when God comes. What do you think of that?" 
"Hunky dory," Boren said.
She was going to say something until Garry—newly minted husband number four—came over, grabbed Boren's outstretched hand and reeled him in for a bear hug. "Good to see you, man."
Boren didn't like Garry. Like Will Rogers, he claimed to have never met a man he didn't like, an attitude that struck Boren as phony.
"Man, I never thought I'd live to see this glorious day," Garry added. "Me married to your sister."
He stretched out his arms, as if he was bathing in righteousness. Garry had an annoying penchant for self-dramatization. He likened his substance-abuse problems to the ills that God had visited on Job. His hung-over mornings were often retold and recalled as learned wisdom. Worse, he thought his travails gave him authority in the arena of spiritual healing. He loved to issue mandates, what Boren privately called the you gottas, though, after bestowing his aggressive you gotta advice, Gary often lost interest in the recipients of his wisdom.
"I've been there," Boren had heard him say in a dismissive way, as if another's problems with drugs, physical abuse, or alcohol were nothing compared to his. Indeed, his resume as a human train wreck was impressive: multiple marriages, totaled cars, homelessness, and an official declaration of death after a drug overdose. He'd been shocked back to life, and when Boren had asked him if he had seen God while he was gone, Garry had replied that he'd been too high to tell.
Right now, however, he was all euphoria and hugs, as was everyone else. People slapped Boren's back, shook his hand, and called him brother. Boren smiled. They were exiles, people whose maimed lives had led them out of Los Angeles to this desolate place where the track houses had no more claim on the soil than a Bedouin's tent.
Since Boren hadn't arrived in time to give away the bride, Lee showed him the place where she and Garry had exchanged vows. Lee talked of redoing the ceremony—an idea Boren dreaded—until someone said Prentice Hawthorne was about to speak.
Saved, Boren thought.
They all went outside where the sun crept around broken clumps of clouds. In the backyard, little crepe streamers were tied to the chain link fence. Farther back, Boren saw a small plastic pool that Lee informed him was used for baptisms. Prentice Hawthorne stood on a small mound. Lee had called him a prophet once, a slip of the tongue that Boren hadn't let her forget. To Boren, he looked a little like a prophet, but he also could pass for a speed freak. He was lean, the kind of guy who gravitated to the desert, minus the tattoos and rotted teeth. His long blonde hair wasn't receding, nor was it yanked back into a ponytail that evidenced a communion with liberal causes. His age was as indeterminate as his politics. His whittled body seemed to encompass a wide spectrum of ages. He wore a white shirt.
He cleared his throat, "Genesis, Chapter Six, 'I shall bring the waters of the flood over the earth to destroy every thing under heaven that has the spirit of life; everything on earth shall perish.' And who did the Lord speak to?"
"Noah," Lee said, and Boren glanced over at his sister.
Her gaze looked eager and faraway at the same time. He wondered how much of the preacher she could see and how much she saw through him. She seemed to view Prentice through the long line of males in her life: musicians, actors and finally through the filter of her father's memory who had also sported long hair and high cheekbones. Boren felt his father's long hair spoke of his father's inability to grow up. It was the freak flag he flew, a lifestyle that grew more and more alternative until one winter morning, he was found motionless.
"And the flood did come, and waters covered the face of the earth. Ancient history—right? Biblical stuff—right?"
"No!" said several in the audience who were evidently used to the cadence of his speeches.
"That's right. And let me tell you again, the flood is going to come. It's happening right now."
"Right now!" Garry said. Standing beside his new brother-in-law, Boren recalled Lee's remarks about over's and under's. He'd take the under's on this marriage—three years.
"Not right now," Prentice said. "The rain has stopped." His expression grew momentarily tolerant, and he lifted his arms in the drying air with such a gentle motion that Boren half-expected doves to alight there.
"The rain has stopped for us," his ghost of a smile quickly vanished as he dropped his arms. "But the rain will return. The flood is going on, all around us. Islands are disappearing, being swept away by the rising ocean. Borders are dissolving too, one nation flows into another. While the sea is rising, the sea of faith is shrinking."
Boren gave him credit for that last line. He'd taught Matthew Arnold's Dover Beach to AP classes until his drinking became a problem and they switched him to bonehead English. It had been a move designed to speed up Boren's retirement, which indeed it had.
"But just remember, you stand on solid ground. You stand on the shoulders of Jesus Christ and the legions of believers who have followed him. They and your faith, will be your raft, your Noah's Ark. Matthew, 10:22, All men will hate you because of me, but he who stands firm to the end will be saved. Lee and Garry will be among them, for they are joined as man and woman in Christ."
Lee blushed and embraced Garry. Prentice Hawthorne returned to his theme, and Boren tuned him out. Standing at the group's edge, he glanced at the shaded window of the guest room he had stayed while drying out last year. It was during Easter vacation. He'd already applied for the haven of retirement. He had only wanted to end his teaching career with some kind of honor and respect. Kids could smell the alcohol on his breath despite the mints. Sometimes he had stumbled and slurred his words. They had lost all respect and called him "wino" behind his back. Technically untrue as Boren had never much liked wine, unless it was very dry. But it was true that Boren had worn out his welcome with the teaching profession.
"You'll be leaving us at the end of the school year," the principal had said a year ago, "Right?"
When summer came he had retired. He'd tried to stay sober ever since. So as not to relapse he had returned to Lee's house weeks before her wedding, but the prayers over dinner, the Bible study group, and Lee's overall piety struck him as forced and phony. He could still recall his sister's younger days when she danced on barroom tables. He had lasted a week before returning to Los Angeles.
"If you'll just take a walk with Jesus Christ," Lee had said to him.
"Fine," Boren answered. "Bring him here. We'll go to the mall."
"The mall is closed," she said. "You'll have to let Him into your heart."
Boren had often ended up at the mall sixty miles away, but not with Jesus Christ. Or he'd escaped to the multiplex, to fill his head with images and his belly with popcorn.  It wasn't until Boren had moved back to his apartment in Los Angeles that Lee had met this prophet fellow, Prentice Hawthorne.
Prentice Hawthorne finished his sermon to a small chorus of "Amens." People crowded around him asking for a blessing or just a conversation. At the same time, the music began playing and the party resumed.
Lee appeared at his side, "What do you think of him?"
"He's everything you said he'd be."
She had a way of looking at him, as if they were kids again and she wasn't sure she was getting her rightful portion at the dinner table.
"And what is that?"
"Look, I'm not a naysayer. Not all men have treated you well." He saw her small wince of acknowledgement. "But if this fellow does something good for you, then I'm all for him. And I'm all for you marrying Garry too. Congratulations on your nuptials."
"My fourth," she said, as if to goad him.
He made a mitigating gesture with his hands. "Well, I don't claim to be perfect. I've had two. "
She wrapped an arm around his shoulder—she was taller than he was in her high heels—and pressed against him, as if to draw out the truth. He shifted his coat so that she wouldn't feel the mini-bottles. Though they rattled a bit, the music masked the sound.
She turned to face him. "Sobriety has done wonders for you. I wouldn't be surprised to see you back in the classroom."
"Hell no, they're laying off teachers, not hiring them."  
"You related well to the kids you taught."
"Maybe better than to my own," Boren said.
He had been dismayed by his son Jeffrey's move to Texas and his embrace of conservative politics. Maybe it was my fault, Boren had reasoned, thinking of how he had conveyed his way of analyzing religion into a set of unjustified assumptions to his son. Then his son had used Boren's methods on liberal beliefs. Eventually calling them attitudes that had calcified into mental reflexes.
His son might be right. Boren's years as a high school teacher had pretty much dissolved every notion he had once held of education's ability to liberate people from bias and ignorance. But he still voted Democrat. His son, evoking his Goldwater-loving great-grandfather, now voted the other way.   
"Now don't say that," Lee said. "You know Jeff loves you, and I love you too."
She quickly turned to set up the food, Subway sandwiches, on a long table while Boren spoke to Lee's daughter. Della had two kids, a mortgage and a husband who was a tax attorney.
Soon, Prentice Hawthorne was summoned to bless the food, the wedding cake and sandwiches, which put Boren in mind of the "lunch" provided by investment reps when they came to the faculty cafeteria to pitch annuities.
"Let there be abundance for all who want it," Prentice said, and his hand made a motion above the table.
All who wanted it, Lee confided to Boren, after the wedding cake had been cut and passed around and people had begun to sample the cold cuts, was a bigger number than they had expected. "Looks like people invited their friends, and so on."
"It's the economy," Boren said. "They want a free meal wherever they can find it."
She made a mewing sound. "Listen to the cynic."
But he wasn't far off the mark, the way people dug into the food, stacking sandwiches on paper plates and filling their plastic glasses with soft drinks. They laughed between bites, their voices sounding forced. Or am I just thinking of myself? Boren thought. His sobriety had drained the world of magic—bad magic, perhaps, but still the magic of transformation, which unfortunately had included nausea, hangovers, behaviors later regretted, and two instances of waking up in a drunk cell. Still, the world without alcohol lacked dimension.
He struggled against cynicism, as he talked to one man about his trash pickup service, then to a tattooed woman who described her conversion while she was in prison. One of the bridesmaids barked like a chained dog when she laughed.
As the afternoon proceeded and Lee went through the various wedding rituals with a grace born of repetition, Boren noticed that the banquet table never seemed to go empty. There always seemed to be plenty for everyone. Boren didn't think that Subway delivered, but maybe they did. More bottles of soft drinks appeared. Boren, who had skipped breakfast, went to the table often to replenish his plate, and the sandwiches turned out to be better than they had looked at first, garnished with condiments that resounded on his palate.
At one point he found himself standing beside Prentice Hawthorne. Boren stuck out his hand and introduced himself.
"Prentice," the other replied and they shook.
"That was quite a speech you gave," Boren said. "Doom and gloom, the flood that will engulf us all. It was hardly appropriate for a wedding, don't you think?"
"I'm sorry if it offended you."
"It didn't offend me. In fact I totally agree with you, though in another context."
"What context is that?"
"Well, a scientific one, An Inconvenient Truth and all that."
Prentice nodded, unimpressed. A woman unaccountably wearing a summer dress came over and shook Hawthorne's hand, giving Boren the opportunity to retreat. When he walked back to the table still full of food, he grabbed a wrapped sandwich and shoved it in the pocket of his coat, opposite the mini bottles of booze.
His cell phone rang. It was the gas station, saying that the tire was fixed. Boren figured it was time to go. He extricated himself with hugs and handshakes. After several minutes, he finally stepped out into the afternoon air. The storm had vanished, leaving small puddles reflecting the clear sky.
He had gone two blocks when he saw a car pull up beside him. It was an orange VW, and when he looked in he saw Prentice Hawthorne. He leaned over and asked if Boren wanted a ride.
"Sure," Boren said, climbing in, careful not to rattle the bottles in his left pocket, the one closest to the driver.
"Where can I take you?"
"There's a gas station a few blocks up."
"Can do," Prentice said. He shoved the car into gear and got back into traffic. "Why did you park at a gas station?"
"Flat tire," Boren said. "Maybe not such a good omen for my sister's wedding."
"I don't believe in omens. I believe our destiny is in our own hands. I guess that's another word for faith. A working faith, that is." Shifting gears, Hawthorne gave Boren a fast, sideways glance.
"Your sister has faith. I think she's a very spiritual person."
"She's a late bloomer in that respect. What about her husband, is he spiritual?"
"Garry's a work in progress."  
"Well, aren't we all?"
"Indeed, we're all struggling."
"Except for you," Boren said.
"How so?"
"Well, my sister says you're a prophet."
"I'm only analyzing trends," Prentice Hawthorne said. Now he looked like a professor, his hair and beard had the assured look of someone who had just made tenure. It was the way Boren's father might have looked, if he had decided to work with the system instead of trying to destroy it.
"So that talk about the rising seas was just a metaphor?"
"Not if you're the one drowning." Hawthorne said.  
Boren pointed. "That's the gas station there, on the corner."
Prentice pulled to the side of the road. He dropped his chin a fraction, giving Boren an even look. "You have a soul. Hiding it behind alcohol won't help it shine." Then he did a funny thing. He reached over and squeezed the coat pocket in which Boren had stuffed the booze.
Boren couldn't have been more rattled if Prentice had reached over and squeezed his cock. He knew that Prentice Hawthorne had seen through his coat, no, that he had seen through him. Quickly, Boren stepped out of the car. "Thanks for the ride."
"Be good," Hawthorne said.
Boren watched the car drive away. He paid his bill, gassed up and got back on the road.
Driving toward Los Angeles, Boren reasoned that Prentice Hawthorne must have had heard the rattling of bottles or perhaps he had seen Boren leaving the liquor store.
Nearing Los Angeles, someone cut him off. Boren braked and honked. "Asshole."
Muttering, he drove on. It began to rain again. Soft drops fell on his windshield. His sinuses felt heavy. It was dark when he arrived home.
As he walked to his front door, he saw a black shape scurry away from the strip of concrete that served as his front porch. What the hell was that? I haven't even been drinking yet. Though this was an oversight he planned to rectify.
He entered the small, empty house. Empty since his ex-girlfriend had taken the cure and moved out three years ago. Once Boren had changed his sport's jacket for a flannel shirt and his serge pants for jeans, he took his bottles out to the front porch. It was narrow, but wide enough to provide a lee for the soft rain.
He liked to sit and watch the people passing by while he sipped, hiding a bottle or glass so it would not look too obvious. That night, no one passed, save the occasional car. Across the street in the apartment complex, the curtains were drawn. Boren opened the first small bottle, the Gibney's. Before he drank he raised the bottle in a gesture of vague salutation.
He drank. He waited for the taste of alcohol to wash across his palate. He frowned. The taste was watery, and after a second sip he discovered why. It was water. He poured some on his palm. It tasted like water. He sipped a little more. What the hell! He opened the second bottle, savored the moment, and drank. It too was water. The third, fourth, and fifth bottles he opened. Allof them were water. He searched in his pocket for a receipt, before he remembered Prentice touching the pocket that held the bottles.
He got his keys from the house and walked out to his car. The Liquor Barn was four blocks down. He had put the keys into the ignition and thought about the water. There was something about it, something that had left a faint sensation on his palate. He left his car, went back through the drizzle and picked up the Olden Times bottle and drank. This time he tasted the water. There was a deep and subtle sweetness to it. He had not noticed the taste of water for a long time. The second sip hinted of the earth, of a long ago geologic time—it was the water of life he was drinking. 
He saw a motion to his left. At the dim end of the porch a mangy, black cat with a dirty white patch on its head sat watching him. It was hardly more than a kitten, skinny as a rail and miserable. He was sure it was the same cat that he'd almost run over this morning. Boren reached into his pocket and pulled out the sandwich he'd taken from the wedding. He ripped the sandwich in half and tossed it. The cat, cautious and famished, looked at him and looked at the food. It took a step forward.
---
Garrett Rowlan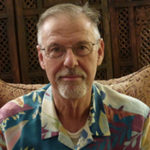 Garrett Rowlan is a retired sub teacher from LAUSD and still lives in Los Angeles. Some of his sixty or so published essays, stories, and reviews are viewable at his website, garrettrowlan.com.